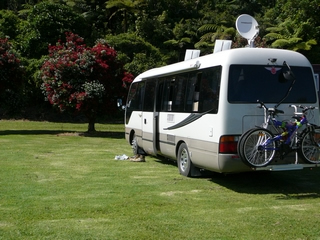 Parked up at Tongaporutu, North Taranaki
Our Motorhome
Our motorhome is a 1993 Toyota Coaster which was imported as a bus and then converted into a 7metre motorhome by its previous owner.
Since we bought it we have had several repair/maintenance issues to contend with but overall we liked the way it was laid-out inside and there is little we would do differently if starting again with design.
Of course, it would be nice to have a big bus with a big motor and air suspension; dreams are free.
| | |
| --- | --- |
| Length | 7 metres |
| Motor | 4,200cc 6cyl diesel (non-turbo) |
| Gearbox | Automatic |
| Electrics | 24v chassis, 12v house (390ah capacity) |
| Travelling weight | 5,200kg |
| Sleeps | 2 only (grand-children may be squeezed in occasionally) |
| Facilities | Shower, flush toilet, basin, bear cupboard, double bed, wardrobe, satellite tv, griller, stove & oven, stereo, fridge |
| Auxilliary transport | 2 bikes on rear-mounted bike rack |
| Water | 200litres fresh, 210litres grey, cassette toilet |
| Heating | LPG cabin heater (externally vented), LPG/240v water heater |
| Tyres | 215/75R 17.5 Dunlop SP344 |
Things we have done to the bus
The bus leaked somewhere in the roof. We found loose screws holding the solar panel onto the roof so we removed the solar panel, filled the screw holes, painted the repairs and then bonded the solar panel to the roof with Sikaflex 221. The bus still leaked so we removed the skylights and found the original sealer used to install them had hardened and cracked, along with some of the plastic that the skylights were made of. Two new skylights and some Sikaflex 221 later everything was water-tight.
We had a bad earth in the 12v house-electrical system which led to appliances grounding through the chassis (24v) with some ugly results including burnt out PCB on fridge ($500) and a burned out spark control unit ($400) on the gas/electric water heater.
We suffered from flat house-batteries on a trip to Napier resulting in a new Redarc smart-charger and an extra battery. We now have 360ah capacity in our 12v system which will let us run our current fridge for approx 48hours without recharging the batteries or using the solar panel.
The fridge was a 3-way gas/12v/240v absorbtion fridge. Venting these properly is paramount to good refrigeration but unfortunately the layout and design/construction did not let us get adequate ventilation in spite of adding several 80mm computer fans. So, we bought a 12v compressor fridge and sold the 3-way with a nett cost of $400 and now have brilliant cooling system for Lion Red.
On Christmas day 2012 a welded joint on a cooling system pipe split as a result of pressure build-up in the cooling system. We removed the cylinder head and found substantial cracking in the areas of cyls 3,4 & 5. We put this down to the motor running hot in a past life, perhaps due to a slow buildup of crap in the radiator cores at some stage. We put a new cylinder head on and things seem to be running well now apart from slightly more black smoke than normal; we will get the pump timing and injectors checked when we get to a big city.
Minor hitch on the way south, at the start of a three month tour of the South Island, was the failure of the hot-water heater. We called in at Central RV in Taupo and they diagnosed the problem and procurred the parts needed while we had a night in the local motorcamp (expensive but it beat being dirty or having a cold shower). Problem sorted!
More concerning was the smell of burnt plastic which turned out to be a melted fuse holder. On the road, charging of our 12v house batteries is from the 24v alternator that looks after the motorhome's starting batteries. It is reduced to 12v by a smart device which drops the level of charging as the batteries recover. We had a battery with a dud cell which fooled the charger into providing maximum current for a long period. End result was the replacement of all 12v batteries and the replacement of the melted fuse holder. Total cost was about $850! (But at least we can watch Coronation St again.)