Friday 17th to Sunday 19th June, Poznan
We skipped breakfast to get a head start on the rest of the rowing supporters and secure a good spot. However they, that's the other 20 supporters, were a bit more savvy than us and obviously knew that there wasn't going to be any food outlets open for several hours, there wasn't going to be any seating problems and that a means of transport that takes you right to the venue was best especially in a cyclone. Entry to the stadium was free, the program was free, parking was free, sitting with the GBR supporters was priceless.
The only thing wrong with free spectator sports in foreign countries are that they don't speak English and they don't have the motivation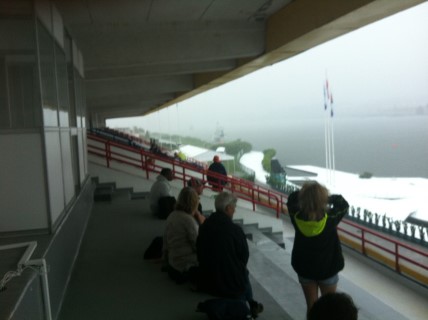 to always think of the spectator needs. Lucky we had a roll of fizzy fruit lollies and a generous Pom who shared his chocolates to keep us going until the café opened. Over the 3 days of the regatta we met some lovely English people who chanted GB and we chanted Kiwi, it all sounds the same so it's a win for both teams. As we waited for the thunder storm to pass and the revised program to start we caught up with most kiwis who were either umpiring, taking photos, rowing or supporting. Apart from ourselves we found Paddy McInnes' Aunt and a friend (sadly Paddy didn't qualify for this regatta), Emma Dyke's parents' friends and Alan Cotter, briefly.
We got to see Michael train and speak to him but unfortunately his race was postponed until the next day due to the weather. So we didn't get caught out the next day and because Roger couldn't stand 3 in 1 instant coffee from our hotel room we went in search of a supermarket in the mall. The NZ mens 8 were there buying up all the fresh milk which is less than a NZ$1 a litre.
We then went into the old Town Square because we had heard it was the best place to dine and spend the evening. There are plenty of restaurants, stalls, live music and entertainment, tourist attractions, churches etc in the square and down alleys. We chose a Polish restaurant and ordered Russian dumplings and potato pancakes filled with spinach, tomato, egg and cheese. Three of our English friends joined us for drinks only, they had been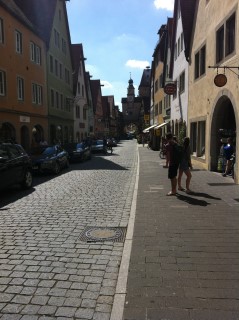 instrumental in getting the stands opened up for us at the rowing, apparently it wasn't a priority for the locals, either that or they were or Poznan time.
On returning to our car we noticed some Indian dancing and music which was attracting large crowds and the police. We instantly had shoved, into our hands, bags of coloured powder with instructions to open and throw after the countdown. Having seen this on TV before and trying to imagine how one gets their clothes clean on holiday after attending a Hindu Holi (dye throwing) festival, I scarpered. We waited to see how far the crowd was going to spread and then Roger bravely went up and filmed it; however he wasn't too keen on the dye packs coming home to NZ in our luggage so they were discarded.
Day 2 of the rowing presented slightly calmer weather, a race finally for Michael and a Gold medal for NZ's Zoe McBride. The stand was open this time and we conformed "you will sit here", "you go there", "you take" I'm sure they don't mean to be rude; it's probably just a fact of not having enough English language. Due to the large lunch break and our lack of interest in non-NZ races we had several hours to go off and visit Cytadela Park;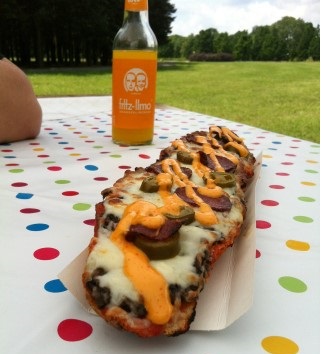 besides, there were more foreign supporters today including reinforcements for team GB. Do you know how hard it is to get a 2½ year old to say Kiwi repetitively instead of GB? Obviously being the child of Andrew Trigg Hodge, MBE, man of many rowing medals, had a slight part to play in the kid's reluctance to say kiwi, not to mention that his mum was once a Dutch international (and voted sexiest women in rowing in her day).
Cytadela Park was very interesting, it was once the grounds of a military fort or six during the wars, there are still remnants of the buildings, tunnels, bunkers etc. We visited the museum, the memorial statutes, the cemetery full of international Pilots who were held as prisoners then killed, a fun run, a scout outing, the food stalls and tried to geocache and failed. The food stalls were placed near some free covered tables and were so inviting we tried the open baguette with all things chilli, although the pavlova did look tempting.
The Museum was housed in the underground bunkers and had a mixed collection of war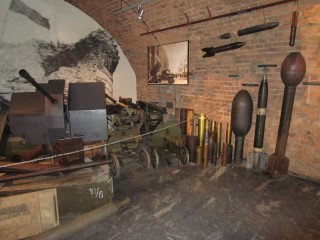 items from various countries inside and machinery outside. The most detail written in English in the Museum describes how mistreated the Polish were by the Nazi. The Polish people had to work the worse jobs, for longer hours, for less remuneration, which included food stamps, of which they couldn't obtain the most nutritional foods because they were reserved for Germans.
In the evening we headed back to the town square to take in some more local culture and atmosphere. This time the bars and restaurants were full, there was loud music and multiple stalls. After several laps we chose a Polish restaurant and Roger tried the duck, red cabbage and dumpling (steam bun) meal. My dinner was less adventurous, although I did try the complimentary bread with lard and onion.
We also managed to score for the teddy bear collection a goat which is Poznan's mascot. The local favourite snack-wise was small items being cooked on a coal BBQ and served with either jam or bacon wrapped around them. After ordering some we soon discovered it was Halloumi Cheese and cranberry sauce.
Rowing Day 3 We had it all sorted now, drove to the car park nearest the stadium, got the free programs, bought the souvenirs, and got a covered seat in front of the medal dais. Unfortunately some unfortunate guy's mother from the German men's four sat near us, she had the whole obnoxious package, moose horn, clappers, loud voice and a husband with a sawn off bow wired to something. They drove us away to the uncovered section with the GBR supporters. I hope she stayed to the end to see which country held up the World Rowing Cup for 2016. Of course NZ won it with an impressive 10 medals from 10 events, of which quite a few were gold. Unfortunately there were no anthems played or flags raised as between us, Australia and GBR I'm sure our German friend would have appreciated seeing quite a few Union Jacks reminding her who won the war.
I got to see Michael row internationally and stand on the dais which was my aim, but better still I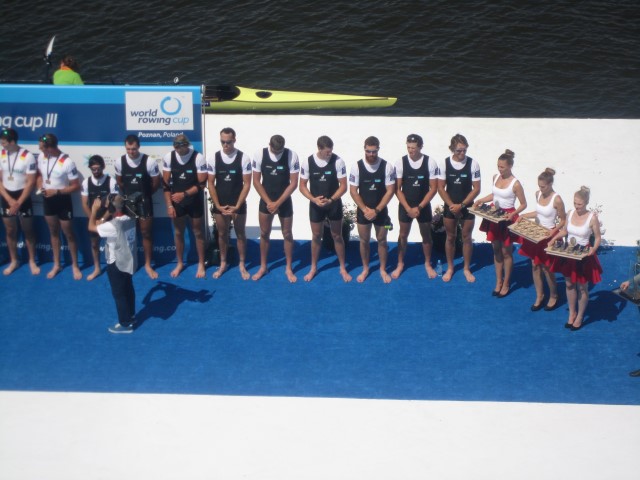 got the long awaited for waffle, cream and fresh berry lunch I had been eyeing up since Thursday. Roger got sunburnt, I would have bought him a decent hat but not for 22 Euros, and not for nearly leaving our NZ silver fern flag behind. I also got to see my name sake Jeannine from Switzerland win a bronze medal in the single. International rowing keeps Gentlemen's hours so we started late, had a break and then finished early.
We left to take in some more sights of Poznan however the GPS had different ideas about what botanical gardens are so after visiting a dead end street and a locked park we ended up at a petting zoo. It stunk and had hardly any animals, but it was free.