Arrowtown to Wanaka (Twice) - 4/03/2012 to 5/03/2012
After speaking to my boss, he suggested we go the more scenic route from Arrowtown to Wanaka via the Kawarau Gorge and Cromwell, avoiding the zig-zag and steep hills over the Crown Range road. So on Sunday morning we headed off via the Gibbston Valley (winery country) to Cromwell in a mad hurry to get the hot croissants at the Cromwell Farmers' Market in the old town before they ran out. For those that don't know Cromwell - when the controversial Clyde Dam was completed, the river levels rose and drowned the old town.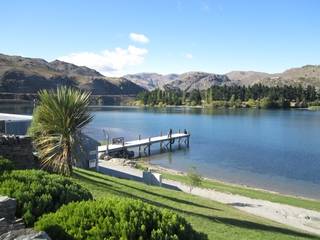 It was, however, planned and a new town centre was built and some of the old buildings saved and rebuilt on higher ground. I am privileged to have visited, as a teenager, the original township before the dam work started and I visited Cromwell in my 20's when the excavation work was well under way and the town had gone. Now the lake, river and town are so picturesque and natural you wouldn't believe the major transformation this place has had, unless of course you visit the old town museum.
Unfortunately for us the Farmers' Market is only in summer and we arrived on the first weekend in autumn. We headed to Provisions, one of the market stall holders that has a shop back out on the main road. Unbelievably, while they are on an orchard in the stone-fruit capital of NZ, they are charging $10 for a very small box of fruit. They don't even provide a self-service bag-your -own option; you are committed to buying a box or nothing at all. You could buy preserved fruit for $20 a large jar, I guess there are some foolish tourists out there that must pay those ridiculous prices for them to still be in business.
Back on the road we drove up the left side of Lake Dunstan (saw rowers) and went to the small resort village called Pisa. They are buil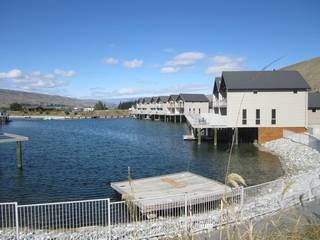 ding houses there with the drive in garage on land and the rest of the house built on stilts over the water. I wonder if you pay land rates if your house doesn't actually occupy any land. Further down the road we stopped briefly before Wanaka for Roger to visit the Warbirds on Wanaka Museum. We arrived in Wanaka on a very hot day, so hot that we were required to step over bikini clad sunbathers to do our geocache.
Wanaka has also grown considerably since I was here last, due to the lake and the nearby skifields. Its population increases dramatically in both summer and winter. Apparently it also gets its share of retiree farmers, one of which we are here to visit. My boss and his in-laws were in town for his father-in-law's birthday and we were privileged enough to join them and park up on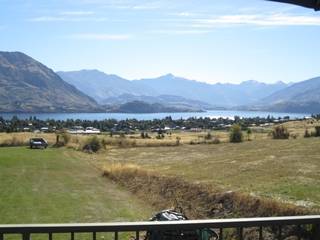 their property. As you can see from the photos we are so hard done by, the view of the lake, mountains and reserve cost more for the land than our whole property cost in the Waikato (according to the next door property for sale). If you are slightly interested in the section next door, it looks right at the Treble Cone skifield carpark and buildings. If you don't like Treble Cone you can go to Cardrona or the Queenstown skifields in less than an hour, or drown your mortgage sorrows at a number of wineries, or gorge yourself at endless cafes in Wanaka, Queenstown, Cromwell or Arrowtown. Thanks go to Bruce and his family for an enjoyable stay and of course 3 months off work (I am not quite sure Bruce has got over that one yet). Just like Roger hasn't got over the fact that looking right at a skifield doesn't hold any significance to farmers from Stirling, Balclutha.
We left Wanaka to have a ground-hog day, in other words drive back to Arrowtown and drive around Lake Dunstan to Wanaka. However this time we went over the Crown Range and around the eastern side of Lake Dunstan. The Crown range, at 1076 metres, is the highest sealed road in NZ and provides the access road to the Cardrona skifield, near the original Cardrona Hotel. Even though the road is still steep, heading back towards Queenstown, it is definitely the more favourable direction for our bus rather than coming up the zig-zag and steep climb from Queenstown.
We rested the poor bus in Arrowtown while we had brunch at a French café, with French speaking staff and French food like baguettes, croissants and chocolate pastries, plus a few macaroons to go. After going past Millbrook Resort we called into Lake Hayes to let our brunch settle.
Our trip to Cromwell was more leisurely this time and we stopped at AJ Hackett's bungy jumping, an old goldfield village and the Roaring Meg p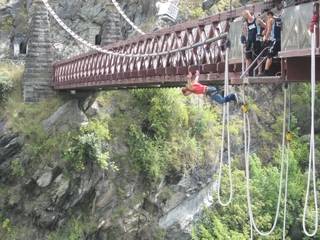 ower station to see some river boarding. We were also way smarter and stopped at an orchard before Cromwell. They had stone fruit in abundance at really reasonable prices, special rate for non-Asians. We bought the usual and some hybrid varieties that were a combination of peach/nectarines, nectarine/apricots and plum/apricots.
On our trip up the eastern side of Lake Dunstan we turned off to see the historic goldfield town of Bendigo, now a winery area.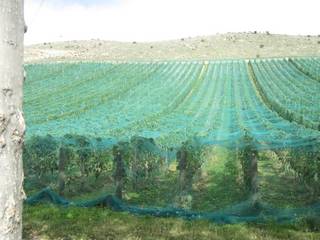 We have been watching them put on the net covers to protect the precious black (red wine) grapes from the birds. It is quite a complex process requiring every gap be sealed and joins be sewn together. Monday night's parking spot is the Albion Cricket Club in Luggate, just outside of Wanaka, it is quite popular and a smart way for a club to raise extra money. I am not sure what happens on cricket days as we are parked right on the boundary rope.