Invercargill to Bluff - 23/02/2012 to 25/02/2012
I am surprised we didn't make front page news on our arrival in Invercargill as until now Invercargill has been experiencing a drought - and then we arrived! The skies opened up, gutters are overflowing and pigs are wallowing in mud.
Actually they are probably cows, as yesterday we dumped our waste right [where we were supposed to – Ed] on the back doorstep of the largest raw milk factory in the world, at Edendale, where they make milk products such as casein and milk-powder (without melamine, presumably).
We are, however, having trouble coming to grips with the drought concept. Rural Invercargill has lush green meadows, stock-piles of winter feed everywhere, overflowing rivers and very productive cows, just like the Waikato. Alan (Aunt Betty's Bro) and Flo's garden was very vibrant considering they have been on water restrictions. I think maybe Southlanders are delusional, a bit like the Waikato folk; they think two fine days in a row is a drought.
Due to the rain we have delayed our trip to Stewart Island and cancelled any historic home and garden tours. Climbing the water tower is off due to earthquake risk-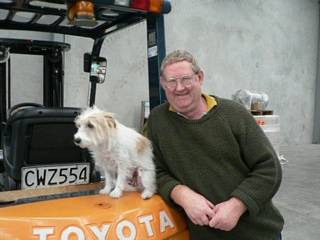 assessment and the oyster season hasn't yet started. In true Southland style our gourmet, cultural experience consisted of visiting a local freight company and sharing Chinese takeaways with Stanley Charles Anderson's family. Nice people, but of course they would be as they too are NZMCA members.
To fill in time until the weather improves enough for us to go to Stewart Island we have decided to do a loop drive around West Southland to Riverton, Tuatapere, Nightcaps, Dipton and Winton. First off we needed groceries and brown beverages, however because the local licensing trust controls all liquor sales you can't buy alcohol at the supermarket. So we called in to the Invercargill Brewery and bought their specialty beers, Boysenberry, Wasp, Stanley Green (fruitcake flavours), Biman (passionfruit) and Pitch Blank (chocolate cake and coffee cream). The jury is still out on the ones sampled so far; unlike the coffee at Riverton and the freight company for sale, which got a big zero. NO, not ever, not even on a good day.
If you have never heard of Licensing Trusts, Wikipedia says "... born out of the prohibition of alcohol era, partly as a reaction to the excesses of New Zealand's pioneering times, but also as a major social experiment. Invercargill Licensing Trust was the first Trust established in 1944.Licensing Trusts revolve around: A primary responsibility to enhance the well-being of their defined community; The distribution of (surplus) profits back to their communities; The provision of good, 'model' facilities for the sale of alcohol, the provision of accommodation and meals, and gaming; In addition, there is an inherent responsibility to efficiently operate commercial businesses profitably.
You only have to look at the number of large stadiums in Invercargill to realize what effect the Trust is having. Maybe South Auckland could head down that path and tidy the streets up of all those liquor outlets and solve a few social issues along the way.
Back on the road, the 1700's settlement of Riverton was passed by and we parked-up at the popular motorhome free-camp at Colac Bay. I convinced Roger to go geocaching in the rain but couldn't get him to take advantage of the free water and wash the Central Otago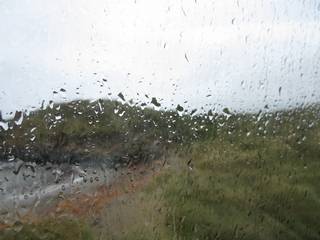 dust off the bus; beige hides dust better than mud brown. On Friday we continued on our loop trip, quickly passing wind swept beaches and Tuatapere's world-famous sausages (not sure why they are world-famous; it must be NCEA styled self-assessment). The museum café does do a nice hot chocolate and jumbo cheese roll, but the flat white coward turned his nose up at the small home coffee machine.
We did stop at the old Clifden suspension bridge for a geocache, actually read some of its history and learned that all water from Lake Manapouri and Lake Te Anau flows under it. We called into Dipton, birth place of Bill English. It's quite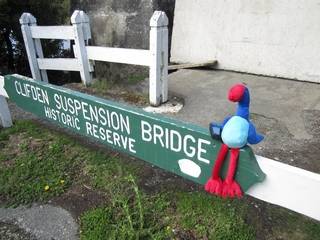 explainable why he is like he is and has so many children. We saw nobody, no traffic and the only shop in town was having an identity crisis, it was a dairy, a bottle store, a chippie etc and seriously looked like it would fall down if you opened the door. There is no internet or cellphone coverage and the rest stop playground equipment is a pile of tyres.
Back in Invercargill we stayed at a NZMCA POP where they encourage 5pm happy hour in your motorhome and expect you to accommodate their curious cat.
Saturday morning we got up early to catch the plane to Stewart Island. Thanks to Christine (Stanley Charles Anderson's mother), we got a good deal on our airfares to the Island, which only takes 15 minutes instead of an hour's chundering ride on the ferry. Alistair issued our tickets, Alist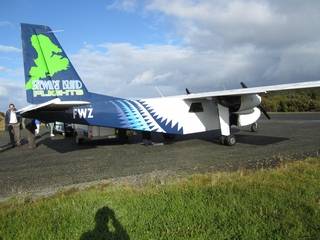 air loaded the bags, Alistair did the safety briefing and Alistair flew the plane. No, not all of the staff are called Alistair - the one chap did everything. We were even weighed to make sure their plane could take off and give you reusable boarding passes. Nice people though and thanks to more strings pulled by Stanley's mother they threw in an informative bus tour around the 3% of the island that has roads.
There is not a lot to do on Stewart Island and the island normally gets 4 seasons in one day. Mainly it was fine and we managed to fill in 7 hours quite easily and get some exercise in to wear off the Kiwi-French crepes made by the Kiwi-American. I had the healthy South Island salmon and asparagus wholemeal crepe, Roger had a wholemeal, walnut crepe, spoiled by the addition of a whole 300 gram bit of mouldy blue cheese plunked on top.
Stewart Island is an interesting place, 85% is native reserve, it has lovely golden sandy beaches with crystal clear water and it has a great community atmosphere. If we ever come here again Roger will be having the blue cod from the pub (I am not looking forward to the after effects of all that mouldy cheese).
Saturday night we are staying at the local hangout for lazy dog walkers in Bluff. They drive the car around the grounds while the dog chases after them. The view from our site consists of the port, including container ship, a tank farm and the same 2 motorhomes we have seen for a week now. We are not having fish for tea, because NZ is so regulated you can't buy fish from a sea port or fishing town, ridiculous.