Twizel to Fox Glacier - 12/03/2012 to 14/03/2012
It is yet another beautiful day by the canals of the Mackenzie Country. It would be nice to stop a few more days and try and catch one of those plump, omega-3 laden salmon ourselves, but unfortunately time doesn't permit.
Our next destination was the West Coast and getting there means going back through the Lindis Pass and possibly Wanaka. Suffering from post-regatta exhaustion, I slept most of the way and woke to the stunning views of Lake Hawea. Lake Hawea is only 15km north of Wanaka and appears to consist mainly of holiday homes [and an excellent pub - Ed]. Although it offers the same scenic beauty and climate as Wanaka it lacks the flat land and therefore has maintained the small holiday destination look and not the rich holiday maker feel of Wanaka.
For us, we can park on two acres of land above the Lake Hawea Hotel for $1, have free showers and get the washing done for $2; a bargain! Unfortunately the hotel does limited beer on tap options and some pretty average meals. They do allow you to write on the paper tablecloths and, according to the barman, past diners have expressed their opinion of the food with the letters S-H-I-T.
Lake Hawea's other downfall is that you can generate as much waste as you like but you can't dump it or fill up with clean water, so on Tuesday morning we went to Wanaka to do this. It was such a nice day we parked up and mingled with the high-end holiday makers to get in another coffee review and buy groceries, hopefully at cheaper than West Coast prices. The supermarket check out lady had been to Lake Karapiro, "yes, it had a lovely little rest stop". No wonder the Karapiro campground doesn't get many tourists if the only thing going for Karapiro is its "lovely rest stop". Tit-for-tat, I must say Wanaka has a lovely new dump station if you are quite particular where you dispose of your shit.
All cleaned out and loaded up we headed down the road that goes between Lake Wanaka and Lake Hawea towards the Haast Pass. Once you get past the high country grasslands the scenery changes to temperate rain forests and beech forests. The temperature drops, the waterfalls increase as does the number of forest walks. Our first walk was to the Blue Pools which we did pretty quickly, covered in insect repellant to avoid te namu. According to legend the early pioneer labourers were slacking so the boss introduced sandflies to keep them moving. To stop them sitting around and drinking at night he introduced mosquitos.
I have nicknamed tourists who hire vans for two weeks to see the South Island, "10 second tourists". They arrive at a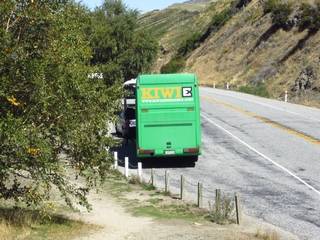 scenic view point, jump out, take a photo and then drive off, reading nothing of the history. After being bitten twice by sandflies, I now carefully survey the area and decide if I am going to be a 10 second tourist or stay safe in the bus. I did get out at one point to do a geocache and with cache in hand, 60 occupants of a bang bus arrived and ignored their 10-second rule, leaving us stranded as sandfly bait with the cache for some time before we could safely re-hide it.
We decided to call it a day at the Roaring Billy Falls where I discovered that the sandflies were so desperate they sieved themselves through the mesh netting on our fly-screens to get to me. We broke all our rules and decided cooking with gas in an unventilated space was quite all right and then filled the room with toxic chemicals to kill the little draculas that did get inside. Lots of gas fumes makes you sleep well and encourages you to think how you can get by without actually going outside.
Apart from sandflies, wet weather and one lane bridges the West Coast is famous for its Whitebait, and no town more so than Haast. It is advertised everywhere you go; we stopped at one of Haast's three townships to buy a couple of patties, yum. Actually we stopped at two of Haast's townships, boy was that confusing; they should get that sorted and also the no internet/cellphone coverage issues [how we got through 36 hours with no internet is another story - Ed].
After visiting the DOC centre at Haast we took a left turn and headed south to Jackson Bay where we watched some fishing boats load up with ice. No fresh fish for sale as usual, only overpriced, cooked whitebait and gurnard. Then it was back north up the Glacier Highway, stopping at a few sights and a salmon farm along the way; I bought salmon coloured Jaffas, he a coffee.
We finally decided on Fox Glacier for the night but freedom camping put us out of town meaning no internet for 48 hours now, conditions are rough, not for the faint hearted facebook dependant teenager [or Gardens of TIme-dependent middle-aged young women - Ed]. Thursday morning it was raining, which kind of ruined our plans because we had three activities planned, all based around fine weather. The weather forecast said it will clear this afternoon so we are going to sit it out, although according to an often recited Westland poem I'm not hopeful; they don't call it the Wet Coast for nothing. So while we count the sandflies on the window here is the poem...
It rained and rained and rained
The average rainfall is well maintained
And when the tracks were simply bogs
It started raining cats and dogs
After a drought of half an hour
We had a most refreshing shower
And then; most curious thing of all
A gentle rain began to fall
Next day, but one, was fairly dry
Save for one deluge from the sky
Which wetted the party to the skin
And then at last – the rain set in.
If you would prefer a statistic, as proof that this is a very wet place, then in 1982 an area just up the road received 1,830mm of rain in 72 hours. It may have been a lot more but the gauge couldn't hold anymore and overflowed.