Te Anau to Arrowtown - 1/03/2012 to 3/03/2012
It was 28 degrees when we first arrived in Te Anau. Now,on Thursday morning, the sun is shining and the sky is blue, but it is only 8 degrees thanks to the white stuff on the mountains; definitely time to move on.
However before we continue if you have already read our Bluff to Te Anau page it has been updated to include missed photos of Manapouri. I also forgot to mention the significance of the speedometer photo at the entrance to the Homer Tunnel; it was the point at which we had done 5000km since leaving home.
First stop Thursday was "The Vege Shed" in Athol, an old converted shearing shed selling vegetables, farm fresh lamb and venison, free range eggs and other oils and spreads from South Island producers. We bought venison, eggs, and of course, free range, chocolate coated Girl Guide biscuits from Auckland.
A puff of steam and a little black smoke drew us to the Kingston Flyer, a very old working steam engine now out of receivership thanks to a Marlborough man. Also thanks to him Kingston has a rejuvenated station café/bar, with log fire and allows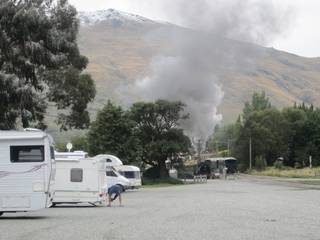 motorhomers to camp in the carpark. The carpark is right on the edge of Lake Wakatipu with snow capped mountains in the background, and that is the summertime view. We shared the bar fire with a rowing parent from Lake Dunstan and listened to his tales of how cold it gets on the South Island lakes in the rowing season, great. Mental note to self, check thermals are packed for Twizel.
Friday morning we woke to more snow on the mountains and I optimistically thought that, because we were going north, it could only get warmer. Wrong, Milford Sound had the day's record temperature of 20 degrees and Queenstown barely reached double digits. We followed the edge of Lake Wakatipu up to Queenstown and parked up to get our mail. Boy has Queenstown grown in size since we have both been here last. The number of houses, hotels, tourist attractions and cafes has more than quadrupled, not to mention the prices.
Queenstown is billed as the adventure capital of NZ, however at our age in life we don't need every last dollar and heart beat sucked out of us to have an adventure. Throwing yourself down Bob's Peak (Skyline Gondola Mountain) whether it be on a mountain bike, flying fox or luge, for large sums of money, in extreme wind, may be a thrill when you are young and brainless, but at our age it's just a sure fire way somebody is going to collect the inheritance ahead of schedule. We have both been here skiing before and seen a bit of the town. I have been here m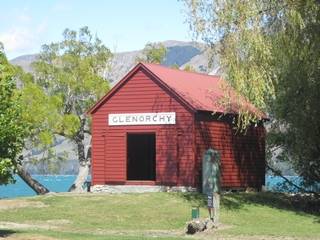 any times as a brainless youth and done the white water rafting, the jet boating, the bungy, the Gondola/luge and the TSS Earnslaw cruise. Having already done parapenting, parachuting and parasailing in other towns I didn't feel the need to increase my chances of becoming a Paraplegic in Queenstown. So we read the guide to see what passive activities they have for sedentary motorhomers. However I have returned to being a tight-arse accountant who refuses to pay $200 for a one day guided bike trip or $275 for a trip out to Glenorchy to see where Lord of the Rings was filmed (we did that in Matamata for a much smaller fee). In true motorhomer style we drove ourselves to Glenorchy, looked at LOTR-type scenery for free, and parked on the side of the road for a cup of tea and bikkie.
Our Saturday lie in was disturbed by the local search and rescue team arriving en masse with dogs. We waited for the TV cameras and in anticipation I cut Roger's hair so he looked his best. It's very difficult in a polar blast to cut Roger's thin hair you know (what he can't see what hurt him). I was rewarded with home-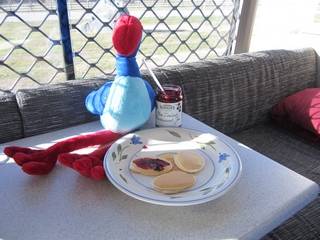 made pikelets and jam in the bus and then went to Glenorchy for scones, cherry jam and vanilla cream. While waiting for our morning tea we bought a book of nursery rhymes, by Garrick Tremain, for grown-ups. Some may know Garrick more for his cartoons than his rhymes. Here is the last verse of a rhyme about the family cat having unexpected kittens, "I think", said Dad to little Tim, "we ought to take them for a swim", and so they did that very thing, with a brick, in a sack, tied up with string. It will now take pride of place on the coffee table, until the grandkids come visiting. [We don't have a coffee table - Ed]
We headed back to Queenstown to do more coffee reviews, geocaching and free sightseeing. Feeling the need to dump more waste, a pastime you become preoccupied with as motorhomers, a bit like eating (chicken and egg thing), we drove off to Frankton. I had to ask some Japanese to move their motorhome, they were having their lunch with the door open right onto the uncovered sewage drain.
As the motorhome moved away several woman came running from the pet shop with supplies thinking they were leaving without them. I had to visit the pet shop to see what bargains could be had for 6 Japanese in a small motorhome. For $210 I could get a cute sleeping kitten, I think we fell for that one before but at Mangere prices. We escaped Queenstown lightly and went to Arrowtown, which also couldn't prise any dollars out of us, may be tomorrow. Arrowtown has a lot of poplar trees and is best visited in autumn when their leaves are changing colour.
Due to the unseasonal weather this summer some of trees have already started to change on the small farm property we are staying on near the Crown Range zig-zag road to Cardrona. After listening to cars going up the steep road, and seeing the pace they go at, I don't think the bus is going to like that route to Wanaka.