Takaka to Picton - 6/04/2012 to 9/04/2012
Having arrived in Pohara in the dark we decided to see what the coastal town had to offer in the daylight apart from the spectacular harbour view we awoke to. After driving through a hole in the hill we did a geocache in a cave, watched rock wall cli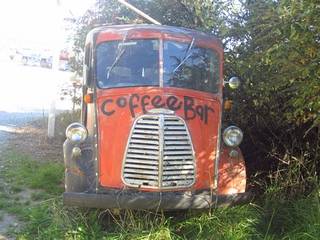 mbers (idiots) and did a coffee review at one of Jacque Cousteau's old boats. Further up the coastline towards where the Abel Tasman Track starts (yes, done that too in a previous life) we came upon the carnage left by the Christmas torrential downpours that closed access ways, destroyed properties and ruined the holiday plans of many people. Today the sun could only but shine on the Abel Tasman National Park which is a welcome relief for all the Easter holiday makers from Christchurch still trying to escape the constant tremors.
We went back to the Anatoki Salmon Farm that we visited a couple of years ago for Roger to catch a fish. However the weekend before Easter they had a big clean out and discounted the fish. Along with all the other holidaymakers there were only a few little overfed fish to be caught, but we did get one, plus a holiday surcharge. We also got some crap coffee and frozen salmon sushi that obviously had been bought in - that will be our last visit.
At the top of the Takaka Hill we visited the Ngarua Caves, an impressive cave system, carved through Marble Mountain, with hundreds of stalagmites and stalactites. We were assured that you can feel the Christchurch earthquakes in the cave but that no harm would come to us, great! I had fears of being killed by a falling icicle.
Getting into the true Easter holiday feel we headed to Kaiteriteri with the rest of Christchurch who roll in with their expensive boats to their batches and assume their respective positions. In Kaiteriteri, there's the bar across the road from the beach for the adults, the sand for the teenagers trying to impress and the water for the tots. At the backend of a three month holiday, sitting in a small bus, eating our way through a small continent, we weren't about to cause a mass clearing of the beach we decided to leave the sunbathing to Swampy.
We left the populous beach-to-the-rich and went to the council-owned Ruby Bay site that does cheap camping for $6 a night each, all the facilities except hot showers and a lovely beach on your back door step. Strange feeling though when all the campers go to bed at 9.30pm on a holiday weekend and there is absolute silence.
Saturday we went off to Mapua, once famous for a nudist camp (they charge for a peep as well) and a contaminated industrial site left from horticultural chemicals. After years of controversy and court battles the area has been cleaned up and developed into hous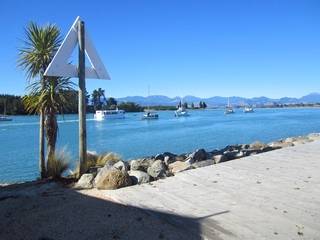 ing. The wharf has boutique shops and cafes and included the Mapua Country Trading Co. that sells everything for the DIY homie like ginger beer bugs, sour dough starters, mushroom growing kits and candle wax. After seeing Allison's sunflowers we bought some seeds that will apparently provide us with an abundance of sunflower seeds to bake in our homemade bread, smothered in hand pressed cheese, while supping home brewed ginger beer. All in a normal days work for Roger.
We then raced off to the Nelson markets, however so did most of Christchurch and Blenheim so we didn't hang around too long even though the food looked inviting. Parking was a nightmare so we went back to the Stoke/Tahunanui area where, coincidently, both our Grandparents lived at the same time; their lives probably crossed paths. Roger's grandparents still reside here in the local cemetery, so we went to visit and straighten the edges of their rose garden plot. Although no longer here my Grandfather left his mark on the Stoke Memorial Hall which he is credited with building (so says the Foundation Stone inscription). Kind of ironic that we started our South Island trip visiting my deceased grandparents in Blenheim and here we are near the end of our trip and we are visiting Roger's in Stoke.
Down the road further, but still in Stoke, there was a Saturday market right outside McCashin's Brewe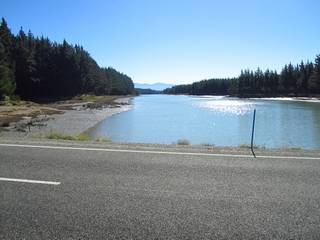 ry so we called in for a look and left with a 6 pack of "Stoke", the beer they now trade with after selling the Mac's brand to some Aucklanders. Still going in a reverse direction we drove back and onto Rabbit Island to try and work out where the rowing course of the future is likely to be. Reserves need carving up and Rabbit Island sounds a good name as opposed to Hawkes Bay proposed rowing course which is being promoted as Ruataniwha No.2. Why? Because its on the Ruataniwha Plains; how original Hawkes Bay!
We drove back to Nelson and on to Pelorus Bridge trying to find a nice parking spot for the night. Fortunately I remembered the man-eating mozzies at Pelorus and the mileage milestone, so we drove until the 10,000km from home mark appeared on the speedometer, just before Canvastown. Nothing or nowhere jumped out at us as the place to park for the night so we continued passed Havelock and went straight to Waikawa, Picton. What a coincidence, a lovely Marian College rowing family were there, so we went up market and checked into a campground and had tea out. I was even kind enough to not spring the Easter Bunny as he crept around hiding eggs for the camping kids on Sunday morning.
Having missed the early rising campers who had gone off fishing or fish feeding we headed off to Portage out at the Keneperu Heads in the Marlborough Sounds. We had a nice antipasto platter which was constantly admired by walkers and bikers coming off the Queen Charlotte track. I came here as a kid when there was a campground, but now it's all crammed in with apartment/hotel accommodation catering for the track patrons. Not really back to nature tramping but it attracts so many people so I guess they have to cater to the demands of the tourist dollar.
We drove back to Havelock and went to Blenheim via the Renwick vineyard area stopping at a couple of shops trading illegally on Easter Sunday. On Monday morning w
hen we woke up in our racecourse paddock all the motivation to continue our South Island tour until after Easter had gone so we booked a ride home on Bluebridge. We caught up with the Maid Marians one more time and sailed off into the sunset, yes daylight saving has ended so it didn't take long before darkness fell on our bus and the end of what seemed a quick 3 months of rediscovering the beauty of the South Island.