DAY 17 - Angers to Mont St Michel 13/10/2007
The jackhammers and locals went away once they were assured that we were well and truly awake and leaving. We got straight back into tourist mode and went to see the largest woven artefact in the world called the Apocalypse Tapestry (bigger than the Bayeux). It is housed in a Chateau in Angers that has signs of being here since 3000 BC. The Chateau has impressive retainer walls that hold up a castle, grounds and very large trees. It basically sits out on a high island with a very deep moat around it.
The tapestry was made in the 14th century and was then misplaced. They found it in 1845, some monk had cut it up and made it into 40 horse blankets. It is now stored in a dark climate controlled room, hence no photos. We meet some more sad New Zealanders, he came for the rugby, she hates rugby and wouldn't waste her money so sits in the hotel when he goes to the games. He was a bit more passionate than us and bought tickets to the 3rd and 4th play offs, maybe that was just in case the All Blacks didn't make the final. We later read a joke "what do you call the 7th and 8th play off? The Bledisloe Cup".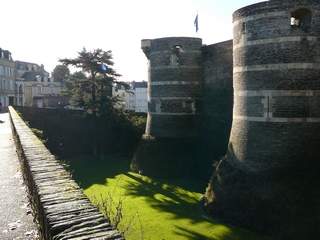 Walls and old moat at Chateau d'Angers
Angers Chateau home to Apocalypse Tapestry
We headed off to McDonalds to use the free internet, however I am still not convinced it is free as it cost $20 for this visit. In England we could sit outside Starbucks and hook up, I guess the French are a bit smarter. Even smarter putting short blacks in a very small cup and half filling it. See photo below. Roger normally drank 2 each visit.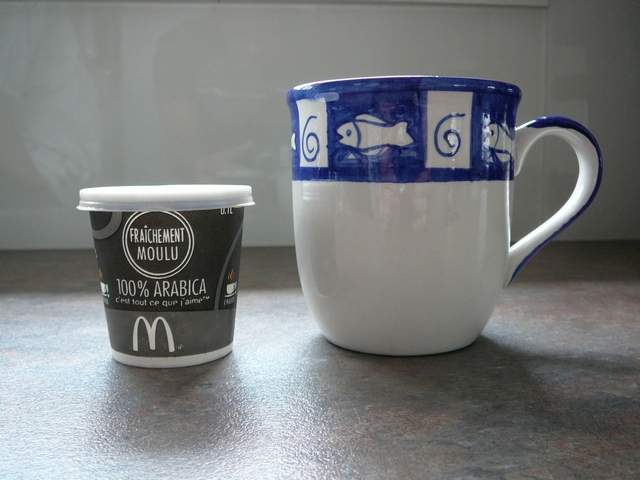 Along the way we stopped at a lovely little town that was having a flower festival and photographed the teddy bears in some of the features.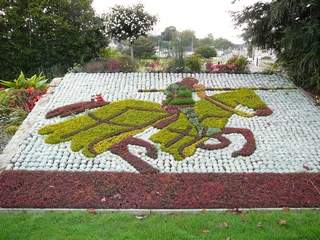 Our final destination for the day was Mont St Michel which is an impressive Abbey built on an island/rock on the north west coast of France. First we stopped at the expensive tourist supermarket to buy our tea supplies. We ran into more Kiwis who were excited that they could buy an English newspaper and then were despondent that all it had in it was news about the England rugby team. What did they expect, it was hardly going to have a massive write up on the All Blacks success. After spending a small fortunate on smelly cheese and several T Shirts we went to the Mont St Michel car park which allows campervans to park over night for an extra 4 Euros.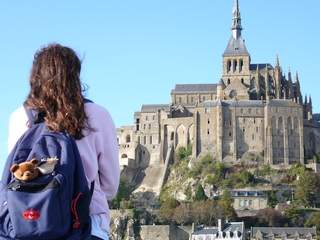 We walked over the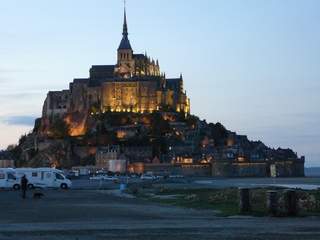 island/rock to the bits you could get to for free and will do the paying bit tomorrow when we have more time. There were a number of school children on the island doing a treasure hunt. One such excited boy ran up to Roger full of fast talking French and got Roger's "I am a deaf-mute look". If only he had spoken English as I would have told him where the treasure was as I had seen the girl's team called "Don d'Intelligence" find it earlier.
In fact Roger is considering himself very intelligent as he has done a French Sudoku. I fail to see the difference from a NZ one.