DAY 20 - Cuneo to Antibes 24/10/2007
It started to rain as we left Italy and climbed the mountain to the tunnel through to France at the bottom of Italy. The tunnel is one way and while waiting the required 12 minutes Roger managed to make his breakfast and take a photo of the snow falling. You can sort of see it in the photo. The tunnel was pretty rough and not as one way as we were led to believe. However it wasn't as bad as the 46km steep wet gorge road out the other side, although by the way the Italians or French drove, maybe it was only me who thought it was difficult driving. The sleazy Italians in their sporty little cars have this theory that in fog it is safest to drive as fast as possible to get out of the low visibility zone. When we finally got to a flat patch we found signs that we were still in Italy and signs advertising McDonalds in Torino 3 hours north, but yet we were heading south. We encounter more tunnels and more long mountain roads. Apparently the French Government are broke and haven't invested heavily into tunnels like Italy, shame. Goodbye Italy.
We headed for Menton for three reasons: 1. Catharine and Ted recommended it as their favourite part of France, 2. William Webb Ellis is buried here (for the uninformed he invented rugby) and 3. It is anywhere but Italy. Menton is the start or end of the French Riviera, depending where you are coming from. It is a tourist trap. We escaped unharmed cash-wise but nearly killed some French locals. The Riviera is full of idiots on scooters who weave in and out of traffic at great speed and find being wedged between buses and campervans more exciting especially in road works. We managed to find William Webb Ellis' grave which wasn't hard as there are signs everywhere, although a French man did feel the need to tell Roger something about his father's parentage in rapid high volume French as we came within millimetres of sideswiping his car.
Since France held the 2007 Rugby World Cup tournament it is a bit over done with signs in the village, in the cemetery and brochures in the tourist office. There is a plaque signed by all the captains of the 2007 world cup teams and a special NZ Rugby Union plaque which just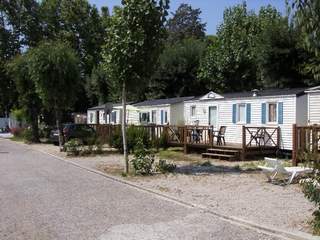 seems to add to the tackiness of turning a cemetery into a tourist attraction. However they don't charge, so nobody is making any money out of this catastrophe. The Exploitation of William Webb Ellis We passed through Monaco and Nice quickly for they appeared to be just a tourist Mecca for the bus loads or in this case cruise ship loads, there were quite a few in the harbour and this was their low season. Riviera We headed for Antibes which is where the working class Poms go for their holidays. We are in a campsite of thousands of trailer homes where they sit in their deck chairs, smoking in slippers and white singlet and look directly at their neighbour who is a metre away. You can't see the beach from here but you can go to the TV room and watch 24 hours of British soccer.