DAY 4 - Dijon to Montbeliard 8/10/07
(via Switzerland & Germany).
Yahoo, it's Monday and France is open and operating again! We got some fuel, diesel for the motor home and chocolate croissants for us.
Because we were so close to the Swiss border we went to Basel which is a large industrial city full of grey buildings, busy roads and air pollution. We drove through the disused border control where it proved easier to get into Switzerland than get out of it. The only thing quaint about Switzerland was a bar based on the Friends TV series and the lady who had a flower box arrangement growing in her bicycle basket. She was actually riding the bike; it wasn't a front garden feature. We made a quick exit giving up hope of stealing the America's Cup back. Our exit was so quick we took a wrong turn and next minute we were at the German border being questioned by an English speaking uniformed official "Why are you coming to my country?", "How long are you staying?", "Oh you are New Zealand!". Roger replied, "we are just looking", "we will be as long as it takes to do a u-turn and get back to France", "yes". Typical male couldn't admit he took a wrong turn (yes dear). Nothing was lost as we had a lovely drive through beautiful vineyard country.
Germany takes after France and is shut for two hours around noon so lunch at a small town café was out. We managed to find Bad Krozingen
a picturesque town with cafes open for lunch and had a Lebanese kebab served by an Indian who spoke perfect English. Then we had Italian ice cream from a place playing Canadian music. Not exactly a cultural German experience but fortunately there were no Nazi concentration camps which suits me as I now have nice images of Germany instead of horror ones.
We drove back into France to Colmar, the start of the Alsace area. We went in to a Repco type car parts store to investigate the cost of a GPS to prevent more unplanned visits to foreign countries. The lady on duty preferred to speak French but could get us a Dutch speaking assistant. I suppose being called Dutch is less offensive than being called Australian. After much discussion with the lazy men out the back she decided to give English a go. She did a wonderful job and managed to sell us a GPS with maps for all of Europe for 259 Euros. This was a bargain as the same GPS in NZ was $800 plus $200-$250 for the maps.
The GPS worked a treat especially in Alsace where we could choose the scenic route and not the expensive boring toll roads.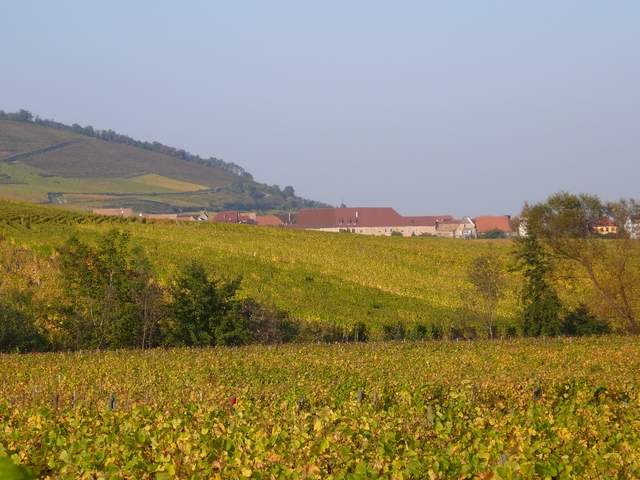 The Alsace region is full of colourful quaint country towns with Bavarian style houses displaying beautiful flower boxes in full bloom. Even the roads leading up to and in a town had flower beds everywhere. Between towns you drive through vine
yards and pass road side stalls selling fresh and preserved fruit and vegetables, crafts, plants and flowers. Unfortunately we didn't get any pictures of the colourful houses with the flower boxes but we did get a picture of the vineyards with that distinctive French haze.
We checked into our first real campsite in Obernai to fill up with water, discharge the waste, do the washing, charge the various batteries and have nice long hot showers for 12 euros. The camp owner was very nice and decided her English was better than our French, however she did humour herself for a minute or two before owning up. When she found out we were from NZ she said she was so sorry for us and it was sad for NZ because we are the best rugby nation. She said we must now support her country and sing with them. Even an Irishman at the camp ground felt shocked and sorry for the All Blacks.