DAY 24 - Mende to Paris 28/10/2007
It is Sunday in France and the country is closed again. We skipped our car park of fellow campers on a cold, dark and frosty morning wondering where all the people were on the ice covered road. It wasn't until we hit the motorway that we found out it was daylight saving and we had got up far too early. To get back to Paris in record time we travelled on the toll road which to Paris cost NZ$100; it was worth it. The only shops open are the motorway petrol stations with café and shops supported by tourists. We unfortunately had to join the ranks for diesel, coffee and a bar of soap. The French had us cornered and we shelled out NZ$7 for one homemade looking soap smelling of honey with lumpy bits inside.
Roger tried getting a coffee from the vending machine and kept getting a sugary drink then he made a profound statement "I need to go to McDonalds for a real coffee", not something either of us would ever thought he w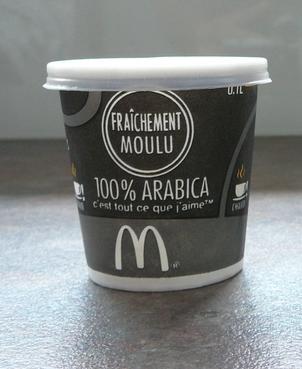 ould say. We all make profound statements. I recall in Italy I said France was civilised compared to Italy. But how can two-hour lunches, 20 minutes of greetings and goodbyes to buy 1 item, no Sunday trading, loony driving, dogs in shops and restaurants, be civilised.
It appears you can make conflicting profound statements. In Ireland Roger was going to marry any Irish girl who had an accent to die for and could pour Guinness. At the rugby he wanted an Asian a third of his age who knew the game. In the Riviera he was wanting a skinny French chick who made good coffee, language no barrier, but he's not sure about the fag hanging out the side of her mouth. I say stick with the fat Kiwi, she doesn't drink your coffee or smoke and she pays her own way to the rugby.
Thank goodness for American fast food, Roger finally got his coffee from McDonalds and I got to dine at Buffalo Grill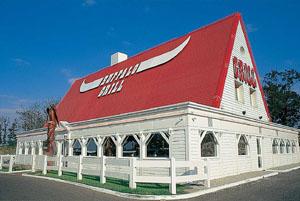 for lunch. We had seen these restaurants everywhere and they looked so Cobb & Co I just couldn't resist trying them. The only thing French about Buffalo Grill was they allowed smoking in the restaurant. We dined in the non-smoking section. When seated the waitress brings you salad and bread whether you wanted it or not. On arrival of your drinks she does some slapping of the glass and her boots cowgirl style, very amusing. The menu is definitely American except for the dessert, I am sure cowboys didn't eat crème brûlée.
We drove to what we thought was a cheaper camping ground just out of Paris. We spent a while and a few Euros trying to get in because we had arrived after their Sunday closing time. On Sunday the barrier arm is only open from 10.00am to noon. This campsite is nasty. The toilets were limited and obviously don't get cleaned on Sundays. The waste dumping site didn't seem to exist and people appeared to be putting them down the toilet. There are no cafes or restaurants nearby for tea and of course being Sunday there are no shops open. We are placed on an uneven corner piece of grass near a drain. You can feel the permanent residents peering out of their damp looking homes right at us.
We consider the depression of this being our last night in France and escape under the barrier arm and wrote off our 14 Euros to a bad experience. The only other option was the worlds most expensive camp in the heart of Paris. A nice word about their lovely camp site, our frequent camper record and request for a cheapie got us a 20 Euro nice site for the night with clean showers and toilets. Actually I think because its autumn and the rugby world cup market has gone the camp has gone back to normal rates.