DAY 5 - Obernai to Pont-à-Mousson 9/10/07
We drove through Strasbourg to complete our tour of the Alsace region. Tonight we are staying at one of the Municipal camps on the river Moselle at Pont-a-Mousson which is about half way between Nancy and Metz. The river has numerous ports along it and lots of polluting industrial factories.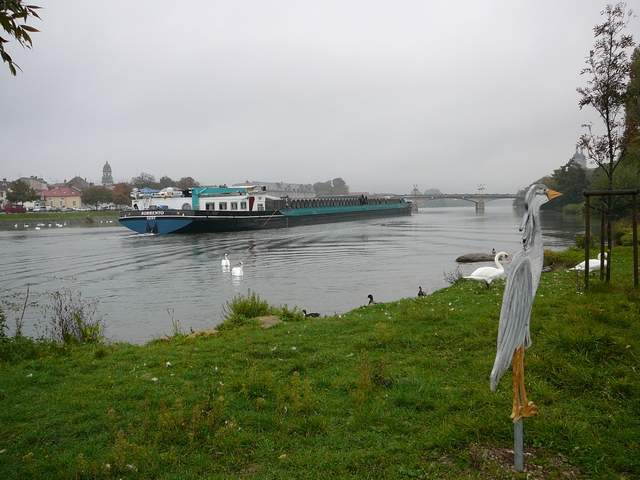 Barges deliver coal and materials to the factories and bring out various industrial looking products such as pipes. We photographed a rather large barge making the tricky manoeuvre through the arches of the pont (bridge). Note the wildlife. They and their excrement were everywhere. The camp is a car park down by a small dock area. The car park is monitored by an attendant of the dock area, they charge a small fee but do provide a toilet and shower in a portico. The attendant notes us down as les Anglaise so I corrected him and he immediately replies "ah, le rugby!".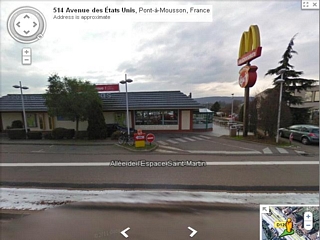 We walked down the road to what we thought was a hotel, but it didn't do hospitality. It was right next door to McDonalds which, like most McDonalds' in France, offers a free internet wifi service if you have your own laptop and have the know how to hook into their network. Works fine for them as the connection is so weak you have to go inside to use it and then give in to spending money with them. Some McDonalds had slightly stronger connections and you can drive close to the building and use the internet for free without the added calories and euro loss.
On the walk from the motor home site to McDonalds there was a big roundabout with a rugby goal post on it. Under the goal post in the flower gardens was a rugby player made of mesh and ivy plants. Like the All Blacks he had fallen over and deflated his ball.