DAY 15 - Arromanches to Brezolles 19/10/2007
This morning we headed to the small village of Giverny where Claude Monet's home and gardens are that inspired his lily pond works. We stopped at Mondeville McDonalds for free internet and the nice lady who spoke English gave us three free chocolates. The French take their chocolate very seriously and everywhere we go we get served 70% cocoa solid chocolate, which of course is my favourite. We only did reading of emails and decided to stop later for replying. However I didn't even get out of the van at the next McDonalds because I was severally traumatised for what I witnessed a long haul truck driver doing in his cab.
The Monet gardens were a bit disappointing, very small and overgrown. However they do close in October for the big winter clean up which was certainly due. You could see where some of M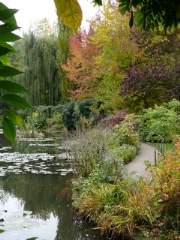 onet's paintings were painted from, especially the lily pond scenes. Roger tried to photograph the exact view and angle as one of Monet's paintings. His is slightly different – I don't think Monet had Wallaby jersey wearing Australians in his picture.
Monet's overgrown gardens (spot the Aussie tourists)
We have stopped for the night at a free Council camp at Brezolles by the river, an hour or so out of Paris. Brezolles is a very small village with a lot of shut shops. The only thing open was a dirty smoky pub which you could also access through the tobacco shop. Desperate for something to eat the only thing we could buy was a Moro bar. The local church bells in Brezolles don't just strike the number of times of the hour, it has to chime the first two lines of "Au clair del la lune" and then bongs the hour; GREAT!!