Day 4 - Bath to Port Isaac 1/06/05

To get to the south west of England we headed North. It seems Irish, but we wanted to see Bristol. Unfortunately Bristol was experiencing a heavy downpour so we headed for the nearest Starbucks to try out our mobile internet connection; yay, success! Wells was also wet so we did a drive-by and moved on.
We toughed the drizzle out at Glastonbury and did the tourist thing. Glastonbury Abbey has an amazing history of religious and mythical significance. It is the reputed birthplace of Christianity in England and a seat of Arthurian Myth. It is worth a visit to see the ruins left after King Henry VIII destroyed the Abbey for its religious connections.
Above: Ladies Chapel, Glastonbury
Left: Choir ruins, Glastonbury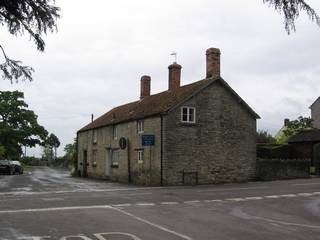 We continued our history lesson, but this time on a more personal note. We visited the small town (very small) of Shapwick to see where the first Brake in my family to come to New Zealand was born. Then we followed his footsteps to Bridgwater where he was married. We couldn't find the actual church, but found 20 Brakes in the phone book. Above is the house where great-great-great grandfather Charles Brake was born.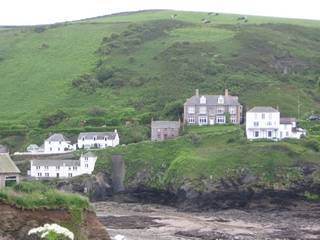 Left: Port Isaac and a view of Doc Martin's Portwenn Surgery
We then took a long drive to the west coast to a small fishing village called Port Isaac. Although the village has been used for the settings of films and TV series its name probably doesn't ring a bell as they seldom use its real name. You may know it as Portwenn as the setting for the Doc Martin Series. We sampled the cod, chips & vinegar here and free camped in the playground.