DAY 28 - Moreton-In-Marsh to Cirencester 25/06/2005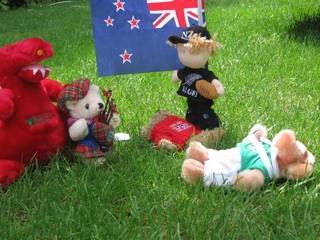 We got up early to watch the Lions/ All Black test at the local. The publican was Scottish and the majority of the locals Welsh. They were upset because they won the grand slam but yet not many of their players made it into the Lions team.There was one other Kiwi supporter, although not as vocal. A £5 English breakfast and Guinness was put on and we went away full and happy the All Blacks had won.
We set off on our tour of the Cotswolds via Woodstock and Oxford, stopping at Oxford to see the University. There is no one campus call Oxford Uni, instead there are several separate campus' (colleges).

The Colleges were quite stuffy and wouldn't let us in see what was behind closed doors and high stone walls. The only one open was Christ Church College but they wanted money (NZ$12) just to see the buildings. We peered through the fence for free. There were lots of skinny geeky students pedalling around on bikes with shopping baskets on the front for their books.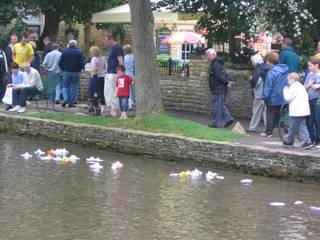 We continued on our tour of the Cotswolds taking in Witney, Burton-on-the-Water, Stow-on-the-Wold, Broadway, Stroud, Cheltenham and finally Cirencester for Pizza and a campsite. In Burton-on-the-Water we stopped for some nice village lunch, bought some English mini (cars) and moped salt and pepper shakers with Union Jacks on them. We also stopped to watch the paper boat races in the very shallow river.