DAY 22 - Inverness to the Grampians 19/06/2005

The weather had cleared so we ventured down the road to Culloden the tragic scene of the mighty battle between the Scots and the Poms. The Scots had fought and won often in England, but were out smarted this time by the Poms on their own territory. The battlefields were swampy and had an interesting story to tell.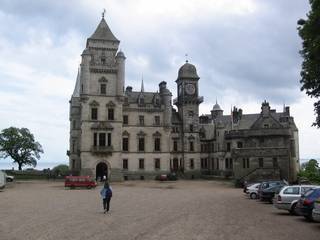 We bought our lunch at the French markets being held in Inverness and headed further north to Dunrobin Castle, which is not only open to the public but still inhabited by the Sutherland Clan. Each room was done out in different periods of the castle's history and had so many things to see, a museum, falconry and beautiful gardens.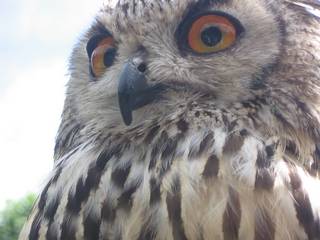 The falconry display in the gardens was both interesting and exciting. The presenter spoke and demonstrated the difference between eagles, hawks and owls.
From Dunrobin we drove down the coast crossing a lot of large bridges to get over sea inlets. At one town we stopped to see the Queen Mary 2 in port. There was nothing of interest in Aberdeen so we decided to head south towards Edinbugh and free camp in the Grampians. They were cold and airy but we were not lonely as the midges came to join us. We moved several times and in the end parked up right between the motorway and the railway line. Our little country lane became even noisier in the morning as it was the main route to get on the motorway.