Day 7 - London 4/06/2005
We travelled into London by train with a true East End family who were off to the Derby. Granny was looking for a Posh-with-some-dosh and the grand-daughter aspired to being a Brittany Spears dancer.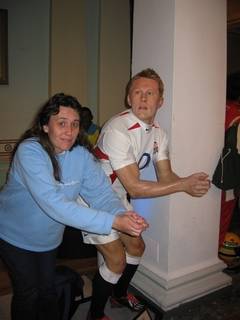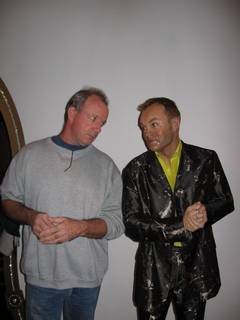 After a brief queue for Madame Tussauds we paid our £22 each to fight with the rest of the crowds to take our photo with the celebs. We cured our tourist-phobia (too many pushy tourists in a confined space) by taking a quick walk to Tower Bridge.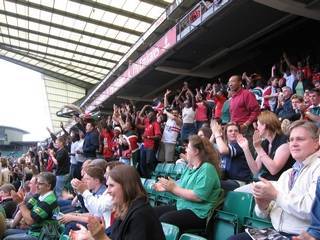 We caught the train from London to Twickenham and arrived just in time to see NZ play Russia in the London 7s tournament. The biggest groups of supporters appeared to be kiwis and poms with most people supporting the NZ team whenever they played. They were suppose to be tournament favourites but didn't even make the finals. The greatest entertainment was the Kenyan supporters who danced, chanted and sung in English and Kenyan until crowd control officials ruined the party.
Kiri te Kanawa sung the introduction to the Martin Johnson testimonial match we really came to see, Jonah Lomu (Southern hemisphere) v Martin Johnson (Northern hemisphere). Martin won and Jonah was gifted a try before he went off injured. When we left at 9.30pm it was still daylight and we had an entertaining ride home on the train with the pommy rugby hooligans.