Riberac is reported to have one of the best Friday markets. There was certainly plenty of dairy, meat and vegetable produce on offer, with white asparagus being the popular vegetable of the day. They say you should never shop on a full stomach, and unfortunately we had a good breakfast before leaving home, that's life, however being the food Trojans that we are, we managed to fit in a pastry each.
After passing through Perigueux, capital of the Dordogne region, we went to Brantome a little village steeped in history. There is a 16th Century abbey with cave chapel and an ingenious mill race and angled stone bridge designed by an abbot for maximum output and strength.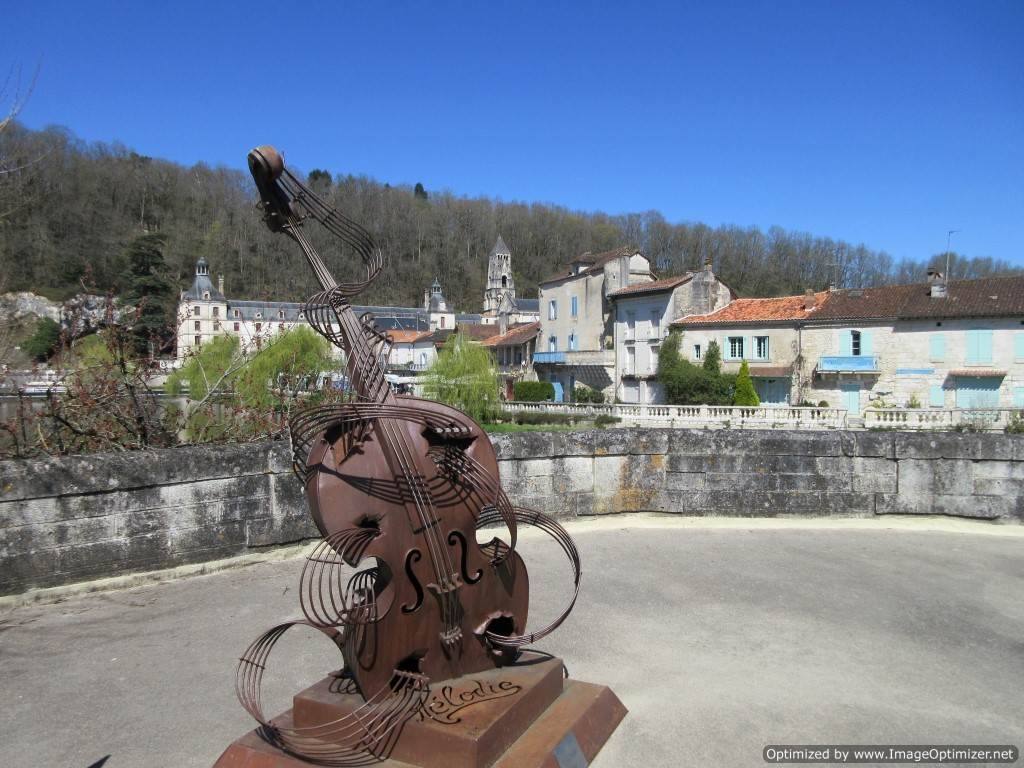 Probably of irrelevance to most people but if you know anything about hydropower generation and have been to Ruataniwha and Karapiro then you will understand that canal construction and curved dam structures would have been a technological advancement in the 16th century.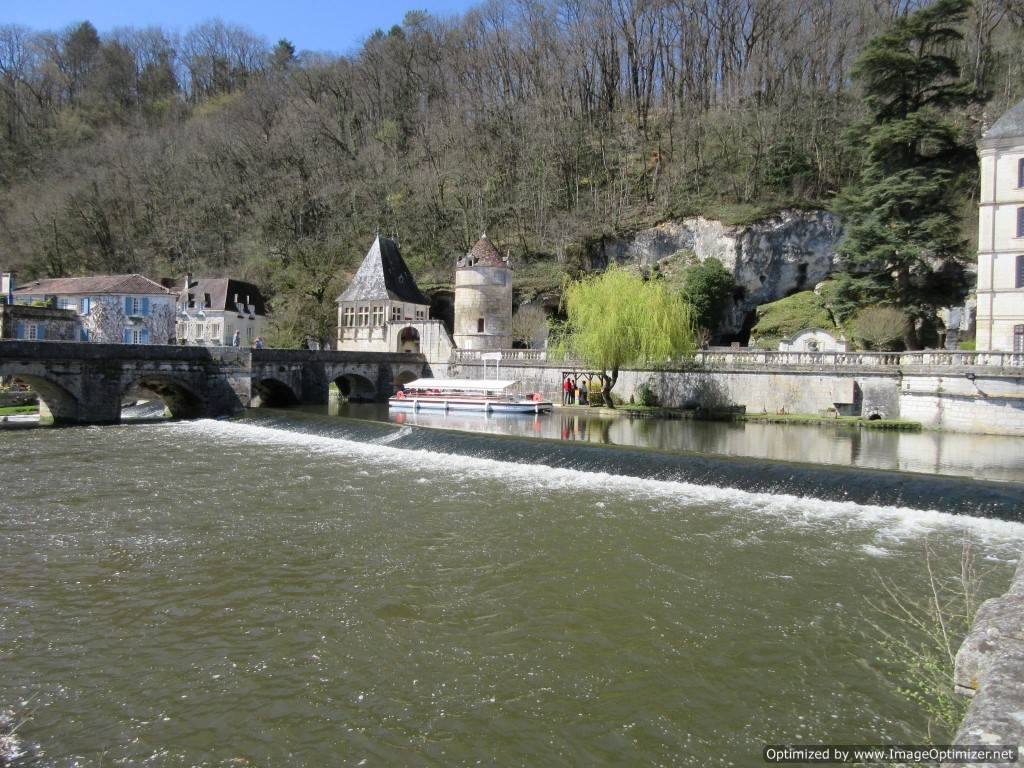 Brantome also have a Friday market and plenty of shops selling precooked cassoulet in jars, but as usual we arrived at that all important French part of the day where everything shuts up for 2 hours, c'est la vie.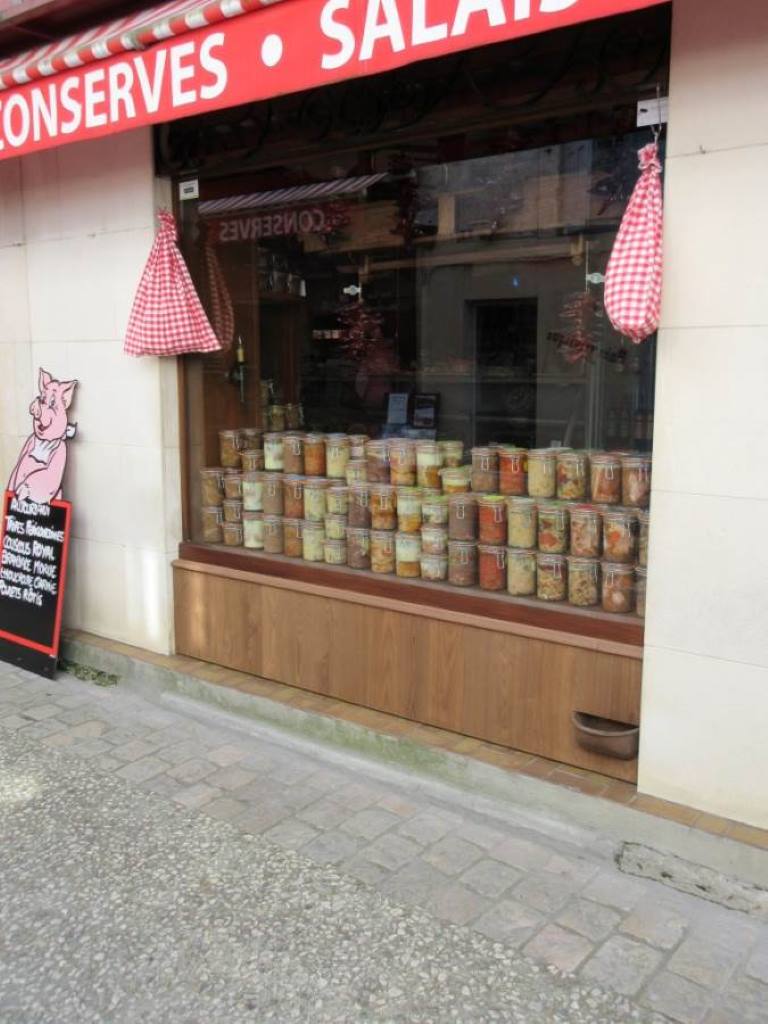 However the local café with its hidden garden setting out back was open and today's gastronomic experience was a croque monsieur (cheese and ham toasted sandwich) for him and a green croque for me, that is a vegetarian version which includes cream cheese, white asparagus, pesto, lettuce and tomato. We also tried the iced chocolate and coffee, yes its warming up, let's just say I won't be in a hurry to order another ice chocolate as it lacked the all important lashings of whipped animal fats.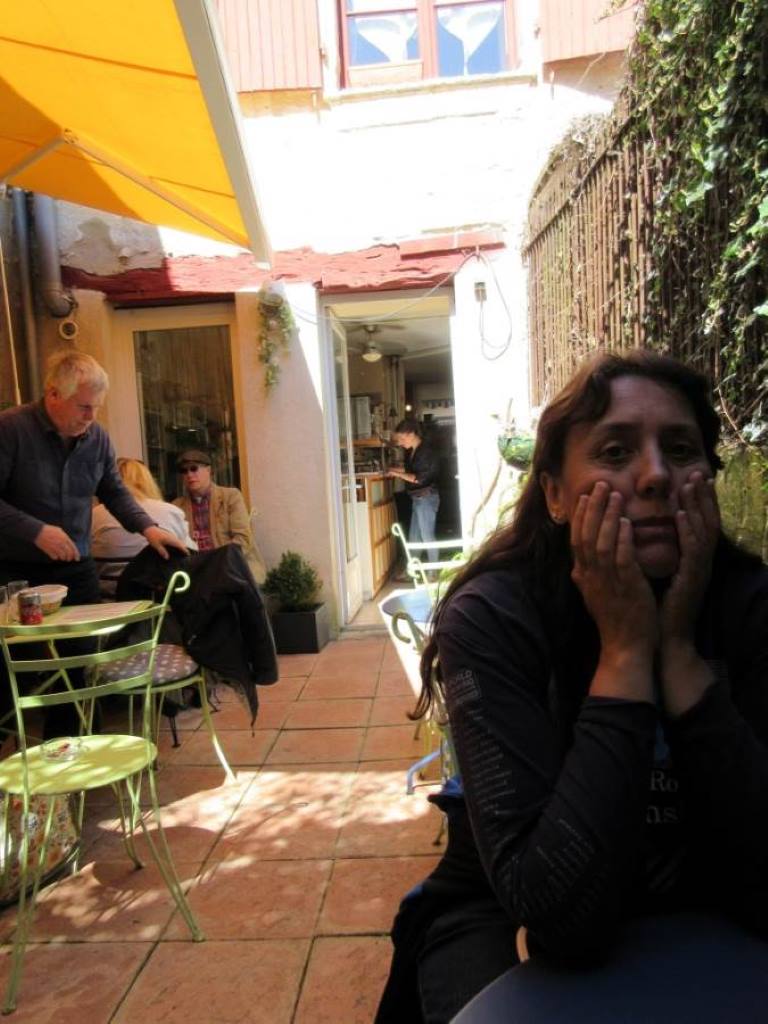 Before returning home via Bourdeilles we stopped off to do a geocache inappropriately placed outside the town library and a preschool. After 10 minutes of searching the librarian sprung us and gave us some encouragement to keep looking. We eventually found it, then she babbled in French, and took the cache away, strange, but I'm sure perfectly normal in these parts. Today's French word is Piment – which is chilli. Unfortunately the French do a lot of cayenne pepper, but very little fresh chilli, chilli sauce or flakes. We discovered an alternative to Lidl supermarkets such as Intermarche which has more variety and chilli. For those who haven't read our previous Europe trip posts, Lidl sells 50% food and 50% crap like knee warmers, slipper inserts and letterbox dusters. The food on sale is random, this week they may get in a pallet load of flour so they wheel it straight out, no shelves needed. Next week it will be a different item, you take your chances, the way the ladies were pushing to get to the flour it seemed stupid not to buy some.